Description
The AM-1S is a module that you can install on your model train layout to control Accessory Projects. You can control a turntable, swing bridge, oil pumps, lights in buildings, and much more!!! You can use our RailPro Assistant Software to design custom screens for your HC-2 to control your accessories!!! The AM-1S can be controlled and setup by a Ring Engineering RailPro Controller, such as the HC-2 Handheld Controller. The AM-1S is not for use with turnouts. Please use AM-1 for turnout control.
Control motors, lights, operate lights with light effects and play custom loaded sounds!

Size: 4.60 x 3.00 x 1.18 inches
Important Note: Important Note: The AM-1S hardware has 8 outputs that can be software controlled for 4 motor outputs or 8 sourcing outputs. It also has another 8 I/O that can be configured for 8 inputs or 8 sinking outputs. Currently there is only one software configuration available for the module (2 motor outputs, 4 sinking outputs, and 8 inputs). We expect to offer more software configurations in the future.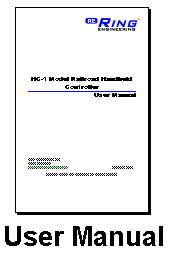 Ring Engineering AM-1S | RailPro Accessory Controller Module with Sound