Description
RailPro products by Ring Engineering are professional grade, powerful, and very easy to use model railroad control products that can be enjoyed by beginners and experts alike.
The HC-2 is a wireless controller with a color touch screen that can be used to operate your model railroad layout. The HC-2 can control the speed, direction, lights, and sounds of locomotives and other accessories by simply touching the screen!
All you need in addition to this starter kit is at least one locomotive module. The included power supply has enough power to run 15 typical modern HO Scale locomotives. You can add additional power supplies, handheld controllers, locomotive modules, and accessory modules, to expand this starter set to control practically any size layout!
Package Contents:
HC-2 Handheld Controller
Battery Charger (100-240VAC 50/60Hz)
USB Cable
PWR-56 Module
PA-2 Power Adapter (110-220VAC 50/60Hz)
110 VAC Power Cable
User Manual with Quick Start Guide
Please see HC-2 and PWR-56 for more details on each product.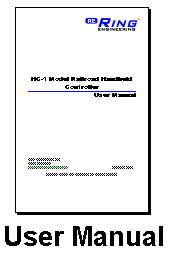 Railpro starter kit
Love this product, so much easier to program locos than with DCC. And squeaky's trains were fantastic, gave me a great price and free shipping!